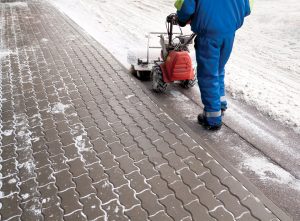 Even the smallest amount of snow can cause ice later. No matter what your expectation level, we have a package that's right for your budget and your situation.  Try to get your snow contract requirements out early as we are fairly booked by the first week of November.  Don't let mother nature catch you off guard.
Keep Clean Service is the most intensive service we can provide for residential snow removal clients.  "Keep Clean" is a service where we will come to your property if the conditions are right for slippery conditions.  Whether you want to pay for each visit, or you want a seasonal package "contract" so service, we can setup the service that's perfect for you.
Standard Trigger Depth is 1.5″ for most Michigan customers.  HOA's and Site Condos can range anywhere from 2″ to 4″ trigger depth.  For a larger snowfall in excess of 4″, we will wait for a few inches of accumulation if we can to limit the number of pushes it takes to clean the snow in the most efficient manor.  Our aim is to cleanup a standard 2″ push in four (4) hours.
Sidewalk safety is number one on our list in the winter and should be for you all year.  Give us a shot to maintain the safety on your home.  We won't let you down!!
Per push service
All-inclusive seasonal contracts
Hybrid contracts
24-hour service
Licensed and insured